About Pittsburgh Wealth Management Group

Choosing a financial partner is about far more than just finances. Here at Pittsburgh Wealth Management Group, we take pride in the options and services we offer our clients.
Our mission is to provide sound recommendations designed for your greatest benefit. We strive to eliminate the guesswork often associated with retirement planning by providing clear information and recommendations. We assist in the design and then implement a plan for your retirement. We then remain by your side, monitoring how the plan is working, making any necessary adjustments as life changes along the way.
Retirement represents a fundamental change in your life, yet most retirees don't match that with a fundamental change in their portfolios. Our primary focus is to assist those planning for, entering into or already in retirement to make that transition smoothly.
Our Founder | Mark Battalini
Mark Battalini was the Founder and CEO of The Pittsburgh Wealth Management Group.
Mark was a leader in the investment industry with a career spanning nearly four decades. During his career, Mark primarily worked with high-net-worth individuals, business owners and entrepreneurs, as well with charitable organizations. Through his efforts, the Pittsburgh Wealth Management Group now manages over $100 million in client assets.
Mark proudly served in the U.S. Air Force. After serving, he returned to Pittsburgh and started his career in the insurance industry. He rose quickly through the ranks of Metropolitan Life to become it's Number #1 agent in 1979.
Mark then earned all of his securities licenses and worked his way up to Senior Vice President of a local Pittsburgh firm. In 2010, he decided to open an independent firm, The Pittsburgh Wealth Management Group. This enabled Mark to offer clients the best investment products available for their personal situation.
Mark was named a "2011 Five Star Wealth Manager" by Pittsburgh Magazine and was consistently ranked in the "Who's Who among Financial Advisors"
Meet Michael Battalini
As President and CEO of The Pittsburgh Wealth Management Group, Michael Battalini is devoted to helping people protect and grow the assets they have accumulated over their lifetime.
Michael Battalini is a fully licensed investment professional, Series
7 (General Securities License) and Series 63 (Securities Agent for States). He is also a fully licensed Life, Annuity and Health Insurance Agent. Michael has a Bachelor of Science in Business Administration from Robert Morris University.
Custom financial planning for retirees and pre-retirees throughout the country is Michael's focus. His expertise in shielding client investments from stock market loss is a strategy that has become especially important in today's volatile market and ever changing economy. Providing clients with guaranteed income for the rest of their lives and minimizing taxes is what you can expect in working with Michael and the Pittsburgh Wealth Management Group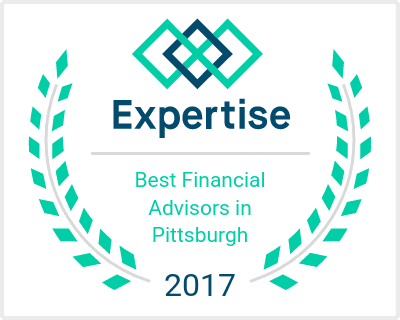 Best Financial
Advisors in
Pittsburgh
2018
Meet Andrew J. Pravlik
At Pittsburgh Wealth Management Group, Andrew J. Pravlik is noted for specializing in alternative investment strategies and income-producing investment plans. As the firm's Director of Investments, Pravlik evaluates the available strategies and develops clear solutions. Andrew's goal is to carefully analyze the options and create a customized plan for his clients.
"When someone works with a large financial firm, they aren't always exposed to all of the financial vehicles available," he explains. "When people go to an independent firm for financial planning, they are not limited to a list of specific products. They are free to choose from a full spectrum of investment possibilities."
Andrew is a licensed investment professional, earning his Series 7 (General Securities License), Series 63 (Securities Agent for States) and Series 65 (Uniform Registered Investment Advisor) designations. He is also a fully Licensed Life, Annuity and Health Insurance Agent.
He began his investment career with Hefren-Tillotson, quickly rising through its ranks to become one of the youngest vice presidents in company history. While First Vice President, Andrew was featured prominently on KDKA's "Your Money and You" radio show. He was also a frequent contributor to the "Ask the Advisor" segment on KDKA.  During this time, "Your Money and You" was the # 1 rated financial show in Pittsburgh.
With almost 25 years of experience in the investment and financial services industry, Andrew believes in working closely with his individual and business clients to provide the highest customer service. He enjoys getting to know the families he works with and strives to accomplish all of their financial and legacy goals.
On the personal side, Andrew attended Allegheny College in Meadville, Pa., graduating in 1996 with degrees in Economics/Finance and French. He was a member of the Allegheny Gator College Football Team and excelled as a member of the Allegheny College Lacrosse Team. Andrew is a member of the Fraternity of Phi Gamma Delta (FIJI).
He donates considerable time and financial support to the Leukemia and Lymphoma Society, the American Cancer Society, the Juvenile Diabetes Research Fund and the Cystic Fibrosis Foundation.
Andrew has an infant son, Aiden. Although his wife, Ivy, doesn't agree, Andrew hopes Aiden becomes a football player! In his free time, Andrew enjoys biking on the Montour and Panhandle trails. Andrew also enjoys fishing and shooting sporting clays.
Meet Gina McCafferty
Gina has a wealth of experience in the investment industry.  She has worked in every aspect of account administration throughout her 20 years in the business.  She is the consumate professional and a valuable asset to the Pittsburgh Wealth Management Group.  Gina has a warm and engaging personality and has become a client favorite over the years.